 We Can All Be Day Owls.
We (with your help) are building the first completely circular bag company. We build our products from recycled landfill-bound materials and repair and refurbish them to keep them in circulation for multiple owners. When they're used up, we make sure they become input materials for new bags. This work—and every solution to the environmental crisis—begins and ends with considering people and planet in dialogue with one another. It's difficult and we're not perfect, but we begin each day working to cultivate a healthier planet and empower people.
Our Approach
Respect People
A Day Owl product begins when a waste collector in the First Mile® picks up a piece of plastic. These men and women are the last line of defense in saving waste from landfills and the ocean but are mostly ignored, especially by our counterparts who don't like the "risk" associated with these communities. First Mile® estimates that over 100 million people globally make their living from what many people would consider trash. We invest in the humans in our supply chain that the rest of our industry ignores.
Reduce Waste
We create our products by reclaiming what others consider waste, and we're working hard to reduce our own. Our counterparts in the fashion industry never sell about 30% of the stuff they make, which means over 92 million tons of textiles end up buried or burned every year. To reduce excess, we buy our inventory with no extra padding, sell our factory Misfits, design zero waste products like the reusable tote and encourage lifelong repair of not only our products, but every bag.
Reuse Objects
When your bag falls out of commission and needs repair, don't trash it or add it to a "donation bin". Send it to a local mending studio to bring it back to working order. Remember that the objects you use most, often need the most maintenance. Support your local repair shop and use the link below to find one near you using the open-source Fixing Fashion map.
Recycle Material
Plastic takes about 450 years to decompose, so we're advocating for an end to single-use plastics and calling on all companies that produce it to stop. That said, of the 8.3 billion tons of plastic ever produced, 6.3 billion tons have not been recycled—that leaves a massive mess. While it's still here, we figure we'll turn it into something functional and beautiful, like our bags. Made from 100% recycled textiles, even our "new" bags aren't new.
What's a Day Owl? Anyone who makes the most of the day.
In March 2010, Ian met Marc Noel in Haiti for the first time. In Haiti, he saw a lot of waste and not a lot of jobs to go around for people like Marc Noel eager to make the most of his time and life. He also learned that plastic bottles can be transformed into fabric. "If Haiti could turn trash into $ = good," he wrote in his notebook. These words continue to guide our project today. Day Owl operates in the company of our sister organization First Mile® and is a strategic partner with the not-for-profit organization WORK.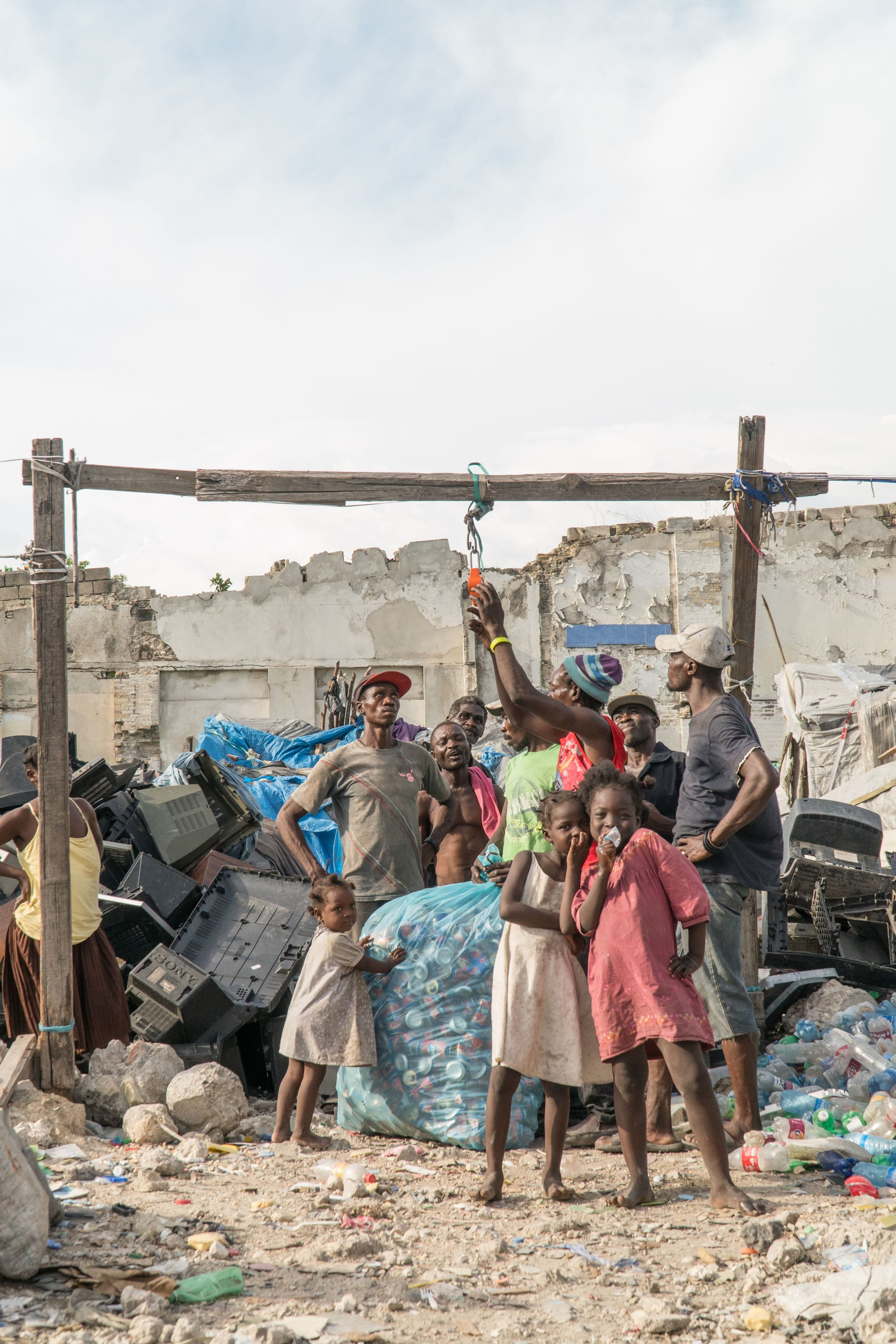 We're committed to creating a positive impact globally and locally.
As a Benefit Corporation, Day Owl meets the highest standards of social and environmental consideration in the way we have structured our company. Learn more about Benefit Corporations here.